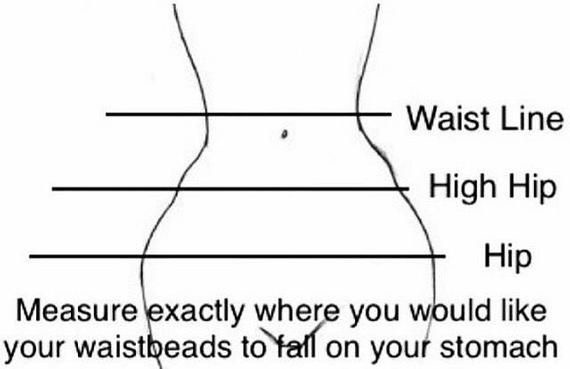 1) The first thing you may want to do is to raise up or remove any items of clothing that could be blocking your waist. This is done in order for you to get an accurate measure for your beads.
2) You're going to decide on where you want your waist beads to fall on your stomach, similar to the above picture, take the measuring tape and measure exactly where you would like them to fall.
3) Make sure that you aren't tugging on the tape so that your measurement can be more accurate. Read the measuring tape and look at the end where the zero is and where that is meeting up with the other end of the measuring tape.
4) Where the two ends meet is what your measurement would be for where you want your beads to fall. Be sure to double check your measurement to ensure the accuracy of that measurement for your beads.
Different options:
If a measuring tape is inaccessible to you then you have two options: you can take a piece of string and lay it along side a ruler, leaving about half an inch at the end.
OR
You can get your measurement by pant size. Below you have been provided with a size chart in which you can use to get a measurement idea.